Mobile App Development
Quality Websites for Australian Businesses

Search Engine Optimisation for Maximum Visibility

Google Ads to maximise ROI

Social Media Posts to rival Top Influencers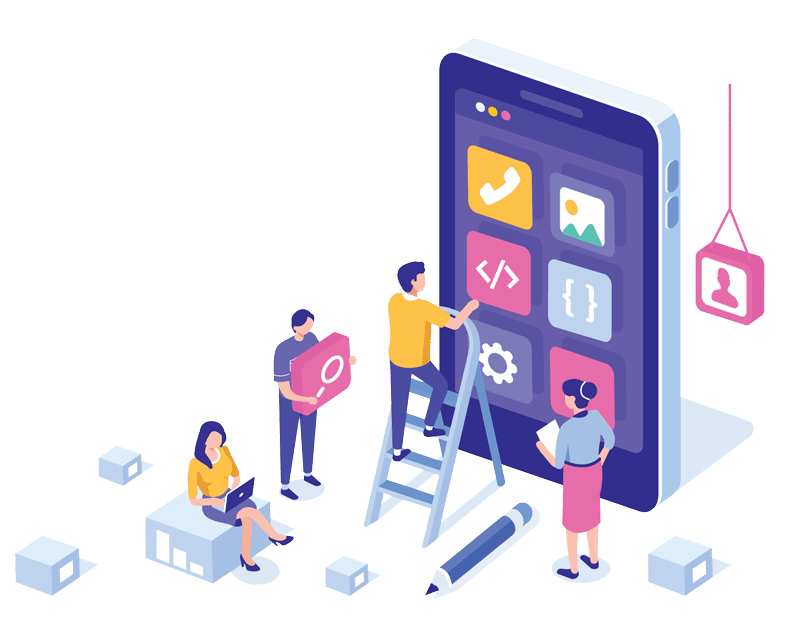 Mobile App Development Australia Wide
Nowadays, most businesses that have a digital platform have a mobile app. The convenience of having a mobile app attracts more users to the business. In this fast-paced era, everyone would look for an easier way to access the website features without actually going to the website. With a mobile app, this is possible as users would be able to directly access all the information they need. Mobile apps are also a great way to offer rewards, promotions, and maintain a constant interaction with your customers.
Developing a mobile app can be a tricky business. Web Marketing Guru offers mobile app development services for any type of business. Some of the benefits of choosing us are:
Trusted Flutter Mobile App Developers in Australia
You would notice that some apps operate differently in a phone with an Android OS compared to one with an iOS. Here is some information about the different kinds of apps differentiated by the Operating System they work on:
Long-Term Partnership
Developing a mobile app does not just end with delivering the final product – like any other app, it requires constant updates and, in some cases, a total revamp in UI. We'll work with you through any changes or revisions you would like in your app.
Developing Strategies
No app can be built without first planning what you want in an app. To ensure that your hybrid app runs smoothly, our developers can advise you on what you need for your app and what is not required and could slow down your app. Every part of your app will be tested before we release the final product.
Easy Done! Your Business Success is four Steps Away.
Delivering a Finished Product
Once we have committed to designing your hybrid mobile application, we will work on it from conceptualisation till the final product. You will be consulted in every step of the way. The development process can take anywhere between 3-12 months, depending on the scale of your project as well as the available technology. We develop both client-facing apps as well as internal apps. You can also get a custom app for various processes, including staff integration, project management, etc.
Customisations to Your App
No app can be built without first planning what you want in an app. To ensure that your hybrid app runs smoothly, our developers can advise you on what you need for your app and what is not required and could slow down your app. Every part of your app will be tested before we release the final product.
Mobile App development For Start Ups & SME Businesses in Australia
With new start-ups already adapting to the digital world and small and medium enterprises investing in digital infrastructure, mobile app development has become a must. Mobile apps can help improve sales, bring in new customers and clients, maintain a constant interaction with customers, and also provide great customer service!
Web Marketing Guru uses Flutter for all your app development needs. A framework designed to build new apps, this codebase makes developing native and hybrid apps easy, quick, and interactive. The ease of this framework allows us to keep it in a single codebase for both native and hybrid apps.
The expertise you receive when you choose Web Marketing Guru along with the convenience of using Flutter framework to build your mobile app is immeasurable. Here's how we can help you using Flutter:
What is Flutter? 10 reasons to use flutter for your Next Mobile App Project
Flutter has been helping a range of businesses when it comes to app development. The ease of writing codes to build apps has made it the most recommended framework among businesses globally! And what's more? This is launched by Google, making it the most trusted framework in the market. Companies like Hamilton Music and Alibaba have developed their apps using flutter, and no further proof is needed to show how their business is doing currently.
Here are some reasons you should choose flutter for your mobile app development:
Why Work With Web Marketing Guru?
As a digital marketing agency, our aim is to render an end-to-end service that encompasses all the digital platforms you would want your presence on. This includes from developing your main website to running targeted ads to gain more customer. With the advent of mobile apps as part of our services, we can now offer complete digital solutions for the best results. There are various reasons we are the right digital marketing agency for your mobile app development:
Matching Your Ideas With Your Business Goal:
When we handle your online marketing, we aim to understand your business first. So, when you come to us with a great app for your business, we will bring our expertise and skills to transform it into a product that will benefit your business. Our in-depth analysis of your app will allow us to validate its feasibility in a technical and marketing sense. In the end, you will get an app that exactly matches your requirements.
Developing a Mobile App Strategy:
Once your ideas are put into perspective, the next step is to create a detailed plan. Being a digital marketing agency, we do our due diligence to understand what your business objectives are as well as your audience. That's why, when we develop your mobile app strategy, we consider the value it will bring to your company and the technical requirements needed to execute them. Mapping out the strategy also ensures that you won't incur any unnecessary cost and the app will be done on time.
UX-Focused App Designs:
Happy customers = successful business. This is the motto that most businesses follow, and we follow them too! To ensure that your customers experience the best service from you, we our intuitive team designs apps that focus on better UI for a better user experience. Conversions are easy when the app operates seamlessly.
Following the Agile Process:
Constant communication is key to ensuring that you receive the app you want. This can only be achieved by adopting the agile method while developing your app. We will consult with you every step of the way and will test each part of the app in real time through flutter so that any change can be made immediately. This cost-effective and time-saving method will ensure that you get an app that is highly customised yet streamlined.
Introducing Your App in the Market:
Our job doesn't just end with developing your app. Marketing is the main aspect of our job, and we'll put out all the stops to get your app in the market. We will design a custom app marketing plan to build a strong presence for your app.
10K
Keywords on Google Page#1
500+
Digital Marketing Accounts
ANY QUESTIONS? READ OUR FAQ
Let's Talk Business
With over 20 years of combine experience, Web Marketing Guru is the trusted by over 3000 Australian SMEs.
"Highly recommend their services. Nothing is a problem and with good advice in a timely manner. Easy to work with and follow up calls much appreciated. Thank you!"
ARTea Art School